Productora de The Walking Dead fue condenada por muerte de doble
La productora de la serie de zombis recibió la "multa máxima" que marca la ley estadounidense para esos casos.
La productora de la exitosa serie de zombis The Walking Dead recibió una multa de casi US13 mil, por la muerte de un doble durante una grabación.
John Bernecker, que se desempeñaba como doble de acción, murió en un hospital en julio después de caer casi 7 metros de un balcón sobre hormigón durante la filmación de la serie en Senoia, Georgia.
La oficina del Departamento de Trabajo para seguridad y salud, dictaminó que la productora Stalwart Films "falló en la protección de riesgos de caídas durante el rodaje del programa de televisión".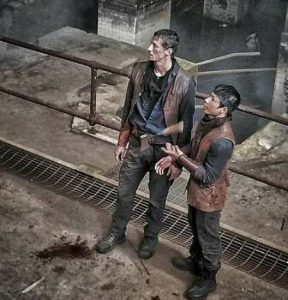 John Bernecker en el set de The Walking Dead
Fuente:labotana.com